Song ID: Magnet – "Corn Rigs" (1972)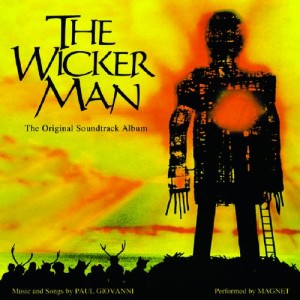 I got talking with Kendell Kardt about his pre-Rig days in New York City and he again made my head spin somewhat when he talked about a folk group he played in called "Forever Children" that included his friend Paul Giovanni (other members included Ronnie Gilbert, Joyce Aaron, and Mike Poznick). This is the same Paul he writes about in his private, online memoir – a guy he gave guitar lessons to and who performed, along with the aforementioned Ms. Aaron (Kendell's girlfriend at the time), in an experimental troupe called the Open Theatre. Paul and his partner, the British playwright Peter Shaffer, eventually (and benevolently) flew Kendell out to London during an Open Theatre stint out there circa 1970 so he could reunite with Ms. Aaron.
That's pretty much the end of Kendell's own story with Paul, but the memory drive in my head kept clicking over the familiar-sounding name, and I remembered it was the same name listed as composer on the opening credits of the the 1973 Wicker Man cult film (performed by a group called "Magnet"). So I dug up an album cover by the group Side Show, that I since found out Giovanni had also belonged to, and Kendell said, "yes, this is Paul, second from the left." I then told Kendell about The Wicker Man and have now replaced the long standing encyclopedia listing in my head that read "Paul Giovanni: Forgotten British folkie who composed a one-off soundtrack to a singular movie" to "Paul Giovanni: New York actor, composer, and old friend of Kendell's who also happened to write the music for a singular movie." Giovanni passed away in 1990, but although this New York Times obituary makes no mention of it, that enchanting soundtrack alone will keep his memory alive and well.
(Another friend of Kendell's, by the way, recently sent along this piece from the Guardian about a Rocky Horror-style Wicker Man singalong that just took place in London…)