Song ID: The Jook – "Bish Bash Bosh" (1974)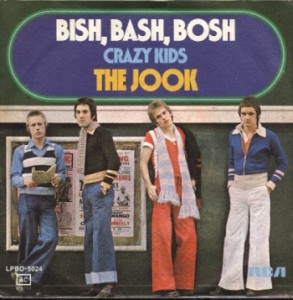 Suave, knowing glam rock single that ended up as the Jook's final one. The UK quartet included two former members of John's Children (guitarist Trevor White on the far left and drummer Chris Townson on the far right). The band shared their manager John Hewlett (another former member of John's Children) with Sparks, who marched to the orders of the American brothers Ron and Russell Mael. Shortly after the single came out in 1974, White and bassist Ian Hampton (middle right) snuffed out the Jook by defecting to Sparks, whose "This Town Ain't Big Enough for the Both of Us" single had reached #2 in Britain the same year.
Here's a portion of an interview (by Phil King) of Jook drummer Chris Townson in Jeremy Thomson and Mary Blount's Wired Up: Glam, Proto Punk and Bubblegum: European Pictures Sleeves 1970-76 (2013) (pp. 206-207):
Phil King: Did you go and see Sparks play?
Townson: No, because there was a bit of argy bargy going on. I took a swipe at Russell over a table. He said something that I thought was quite disparaging. I used to be quite aggressive when I was a young man. I just caught his nose. They were really quite arrogant. I really didn't like them at all. I went out for a meal with them once – Ron and Russ – and it was really one of the most unpleasant meals I ever had. There was no conversation…
King: Did they come and see Jook play?
Townson: They came to see Jook play and said "Yes, they sound like a rock band." No further discussion.
King: What about the story about the Bay City Rollers stealing your image?
Townson: We were playing in Scotland and this rather scruffy long-haired bunch, who looked like we did a year previously, came in after the gig and said what a fantastic show it was and how impressed they were with the image. Not two months later, even less, we saw these same guys and they'd patched it up with lots of tartan and everything. It was essentially the Jook image….
King: That must have been another nail in the coffin.
Townson: It was, and it was also bloody irritating when you go somewhere and they say, "You look like the Bay City Rollers." I think I came close to punching many people.