Song ID: The Beatles – "Across the Universe" (1968)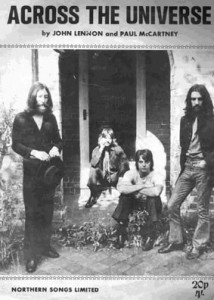 What springs to mind when this Let It Be song plays: 1) Its spiritual poetics, as if it were a hymn to Lennon's imaginative Ono and her home continent's mystic heritage; 2) evidence that the Maharishi era enhanced the Beatles' artistry; and 3) that Lennon was a craftsman to the core.
Some Beatle versions you can choose from: 1) The official Let It Be one with Phil Spector's overzealous angels; 2) the earlier version (on Past Masters) with bumble bees and horses; 3) The Anthology version where Lennon has trouble controlling his breath; and 4) the Let It Be Naked version, which is possibly the best one, although it omits the ascending eight notes reinforcing the outro on the familiar Spector version. Sigh.
Recently my teenage son asked me about the 1998 movie Pleasantville and I couldn't quite articulate why my memories of it were so negative. So we watched it and near the end I thought, well that wasn't so bad. Then Fiona Apple started up her moaning sick-bed rendition of "Across the Universe" and my memories made sense.