Riley Walker and His Rockin-R-Rangers – "Uranium Miner's Boogie" (c. 195?)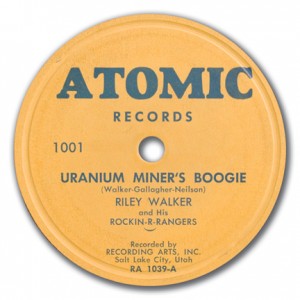 [See an updated entry about "Uranium Miner's Boogie" here.]
This is an extremely rare early Utah rock 'n' roll treasure, and it comes to us courtesy of New Mexico record collector Jerry Richards. It was appropriately released on the Atomic label and recorded at Recording Arts, Inc. in Salt Lake City, the "Wall Street of Uranium Stocks" (RAI is no longer with us but until 1944 was run by future LDS church president Gordon B. Hinckley). It's a great example of a record that spoke directly to its home region, which was Utah and the four corners area, and didn't circulate much beyond that. It's also high grade western swing-cum-early rockabilly featuring some of the sassiest of steel guitar riffage.
If you're familiar with the Southeastern Utah area, you'll catch the references to Grand and San Juan counties, which were true hotbeds of the post-WWII uranium mining industry, as well as Cottonwood, the southern canyon area near the Grand Staircase (not to be confused with Big or Little Cottonwood canyons, although they'd also work fine in a uranium mining context). And if you're well-versed in atomic industry history, you'll recognize acronymic nods to the Vanadium Corporation of America, the U.S. Vanadium Corporation, and the Atomic Energy Commission.
Richards found his own copies of the record in Helper, Utah, which makes perfect sense, as he puts it, "because Helper was, and still is, a mining town." The record came out as a 78 and a 45, with the 45 version pressed in blue vinyl. Both came packaged in what Richards refers to as "brown paper bag sleeves."
There's still quite a bit of homework to be done regarding virtually everything else about this record and the folks who made it happen. The year, for example – I've seen it listed as anywhere between 1954 and 1957. The relaxed mastery of the musical idiom along with the casual appearance of "rockin" in the group's name makes me assume it's post-1956, but I'd absolutely love it if I were wrong. For now, though, strap on your rock 'n' roll geiger counters and watch those needles fly.
Riley Walker and His Rockin-R-Rangers – "Uranium Miner's Boogie"
Audio clip: Adobe Flash Player (version 9 or above) is required to play this audio clip. Download the latest version here. You also need to have JavaScript enabled in your browser.
posted by Kim Simpson