Exclusive Track from Kendell Kardt's lost solo LP, Buddy Bolden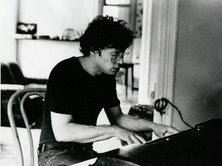 Not long ago I wrote here about Rig, a country rock early seventies outfit I'd gotten curious about. Their only LP – long out of print – was released by Capitol in 1970 and had Elliott Mazer as a co-producer. I'd been especially intrigued by songwriter Kendell Kardt, whose preoccupation with old Americana subjects, as well as his memorable and playful treatment of them, gave the Rig album so much of its personality. After tracking down Kardt in New Jersey, I found out that shortly after Rig unraveled in 1971, he'd gone to San Francisco to record an entire solo LP for Capitol, which featured the helping hands of members of the Grateful Dead and New Riders of the Purple Sage, among others. Due primarily to shakeups in the A&R dept., the finished album – which was to be named after Buddy Bolden, the early 20th century New Orleans jazz icon – was shelved and Kardt's recording career never really recovered.
When I heard about this, I realized I'd just tripped over another one of those Great Lost LPs that might have made a significant contribution to its era but instead languished in the vaults thanks to music biz shenanigans. I'm really hoping that the album can one day be heard the way Kardt intended it to be. It'll take a certain bit of legal wrangling to get it properly released, although it's nothing any moderately well-functioning label wouldn't be able to handle rather effortlessly. So here's hoping. The happy news, though, is that Kardt has given me permission to post the album's terrific title track, never issued anywhere, right here. Sounding like something that would have fit in snugly on any of the early Jesse Winchester or Delaney and Bonnie albums (the female voices, by the way, belong to Barbara Mauritz of Lamb and Pamela Polland of the Gentle Soul), it also glows with the same unique personality you can hear on Kardt's Rig tracks. "Buddy Bolden" makes a pretty clear case for why the album finally needs to be heard. Give it a listen and see what I'm talking about.
Kendell Kardt – "Buddy Bolden" (1971)
Audio clip: Adobe Flash Player (version 9 or above) is required to play this audio clip. Download the latest version here. You also need to have JavaScript enabled in your browser.
posted by Kim Simpson