Fleshtones Clinch '08 Album of the Year Honors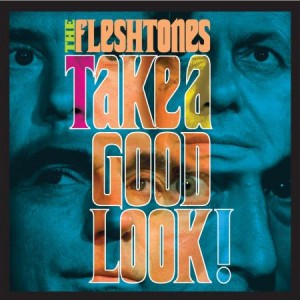 I'm feeling so much love for the Fleshtones these days. First of all, I just finished and thoroughly dug Sweat: The Story of the Fleshtones, America's Garage Band, the new book by Dr. Joe Bonomo, which is an unthinkably generous reward for fans like me who'd resigned themselves to reading about the group in short takes. Let's hope it makes whole legions of new fans. [Update: see my review at Pop Matters.]
(By the way, Google Joe Bonomo and see what comes up first – a tribute to a mid-century strongman written by Norton Records' Miriam Linna. She's an early Fleshtones booster/pal who appears in the book and I can't help but think Bonomo's name was an asset of sorts early in the game.)
Second of all, the guys have gone and released one of their best records ever. This is a big statement from me because I love all their records. I'm one of those evidently all too rare faithful who's been snatching up new Fleshtones releases hot off the press since I hopped onto the Super Rock Express in '84. And I'm all too apt to assess a new release as "another great one!" But this one is just so especially pleasing to me for the following big 12 reasons:
1 – It's a forceful, "any questions?" supplement to the new attention they'll be getting from the book and forthcoming (rumor has it) movie documentary.
2 – It's co-produced to stunningly straight-ahead effect by Ivan Julian, who's been working the musical trenches of NYC as far back as his days as one of Richard Hell's Voidoids.
3 – It's a thirty-minute riot that leaves you wanting more.
4 – Not that genius titles are anything new for this group, but it's got a song called "Shiney Hiney."
5 – It contains guitarist Keith Streng's best ever vocal performance, which happens to be the aforementioned selection.
6 – The songs are all original. Not that I really care, because one of my all-time favorite records of theirs is the all-covers Fleshtones Favorites. But for a group whose songwriting chops never get the same credit as their live shows or even their reputations as cover artists extraordinaire (just like Elvis), this is well worth pointing out.
7 – Not only are the songs all original, but Keith, singer Peter Zaremba, and bassist Ken Fox all pitch in as songwriters.
8 – The album title is taken from a favorite catchphrase of the late Fleshtones sax man, Gordon Spaeth.
9 – "First Date" channels the Dave Clark Five doing "I Like it Like That."
10 – The last song on the album, which is the title track, features Peter losing his mind, fading off with shouts and yells into the strait-jacketed realm of Napoleon XIV. (It sounds riveting, but let's hope he's just kidding around.)
11 – In this same song, Peter lays it on the "frowning think-they're-so-cools," the would-be hipsters of the "tattoo covered, goateed, sock-cap wearing" ilk. If these really are the folks who've been standing in the group's way all these years, then we should share Peter's disdain. (Word of warning to those of you who have the album cued up in the family station wagon: Peter lets an exasperated F bomb fly here. But that shouldn't stop you from appreciating them as essentially a family band.)
12 – They sing about going "back to school" – a pretty funny joke for guys who've been busy doing all the schooling for over thirty years now.
So if I haven't made it clear yet, the Great '08 Album of the Year sweepstakes are a wrap, folks. Your Arcade Fishermen and Animal Collectors can release an album per month if they want, but it's purely academic from here on out.
Now go on and get it.
posted by Kim Simpson