Whistling Disco: Your 2011 Summertime Jams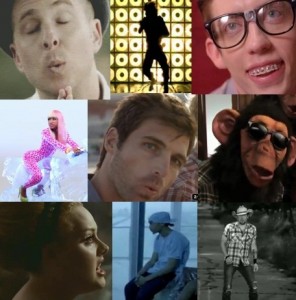 When I was a teenager in the '80s, the current hits of the day always aired at swimming pools, arcades, malls, grocery stores, and theme parks. You didn't need your radio carefully tuned to the Top 40 station to hear contemporary hits. As an adult who now takes his own kids to these places, 85% of what I heard this summer were hits from the '80s.
If public background music targets adults so aggressively nowadays (at least in my neck of the woods), I wonder how kids are hearing current hits. Do they listen to Top 40 with more premeditated determination than my generation ever did? Are they sneakier about it? Are chart positions today swayed by an even smaller segment of the population than before? Are the dance clubs that cater to late teens and twenty-somethings now the primary venues for Top 40 exposure? Is it TV that's introducing kids to these songs? Someone should get empirical about this and let me know how it turns out.
I can at least talk about some of the hits themselves. What follows is a quick skim through all 23 titles to have roosted in the Top Ten of Billboard's Hot 100 between June 1 and August 31 of this year. I'm no mathematician, but I've listed them according to popularity in terms of chart positions and weeks in the Top Ten. I've gone out of my way this summer – which is what it requires for an adult – to take these songs in along with their accompanying videos. I've done this by keeping my ears glued to the local Top 40 station (avoiding mornings) and spending unrecommended amounts of time on YouTube.
Before getting started, allow me to touch upon six trends I've noticed in this year's summertime hit parade:
1) Eurodisco: At first glance, the term might seem dated and out of context, but I can't think of anything more accurate to describe the frenzied, Ibiza-friendly sounds that presently make "rock" and "R&B" seem like far more badly dated terms than "Eurodisco."
2) Workhorse 4-bar chord sequences: Hit songwriters of today and the audiences who support them are very happy with refrains consisting of four repeating measures with four chords, each one assigned to an entire measure. The "With or Without You" (U2) template ("wowy" is what I call it) is among the most popular. The plodding persistence of this 4-chords per 4-measures in 4/4 time approach to songwriting (Adele's "Someone Like You" is only the latest) is partly responsible for giving everyone over thirty the impression that their own teenage soundtracks were somehow innovative and/or Gershwin-esque.
3) Gap rap: As I put it once before, "gap rap" is a "longstanding musical feature unique to radio and music video in which 'clean versions' of (mainly) rap songs contain non-vocalized gaps in place of rude language. The effect is that of a rapper using a very cheap microphone cord." An aura of defectiveness, in other words, accompanies all gap rap tracks.
4) The Katy Perry/Lady Gaga/Britney Spears corruptathon: The three biggest female singers of today are currently competing to see who can kill your preteen daughters' childhoods the fastest. In their defense, they may be merely attempting to affirm that they are not, in fact, preteens themselves.
5) Whistling: The sound of whistling, either actual or synthesized, appeared in enough songs this summer to qualify as a full blown (so to speak) trend. Who started this? What does it mean? Does it prophesy the revenge of the "tweeter" after the long reign of the subwoofer?
5) Winks to the '80s: Most of these songs contain a synth hook, melody, drum pattern, sample, or chord sequence that middle-agers will say sounds especially familiar. This is likely because contemporary hits are targeted to, and in many cases created by, kids who have subconsciously developed an ear for their parents' '80s music, continually airing as it does in public spaces. (All of the short sound samples place the current hits alongside the ones they salute.)
***
"Party Rock Anthem" – LMFAO featuring Lauren Bennett and GoonRock
About the artist: LMFAO are actual heirs to Motown Records. Their monicker means "Let the Motown sound Flourish through Another Offspring."
Song description: Disco thrills and dentist drills.
Video synopsis: Dancing in the streets.
Video moral: It sorta does matter what you wear.
'80 hit(s) it salutes: "Let the Music Play" (Shannon); "Somebody's Watching Me" (Rockwell – another Motown heir)
Audio clip: Adobe Flash Player (version 9 or above) is required to play this audio clip. Download the latest version here. You also need to have JavaScript enabled in your browser.
"Rolling in the Deep" – Adele
About the artist: Like beehive soul sister Mari Wilson, Adele is subject to the Queen.
Song description: "Gimme Shelter" for ladies.
Video synopsis: Hallucinations of the housebound.
Video moral: Better sit down.
'80 hit it salutes: "I Keep Forgettin'" (Michael McDonald)
Audio clip: Adobe Flash Player (version 9 or above) is required to play this audio clip. Download the latest version here. You also need to have JavaScript enabled in your browser.
"Give Me Everything" – Pitbull featuring Ne-Yo, Afrojack and Naayer
About the artist: Pitbull never shows up without a posse.
Song description: Barking and meowing.
Video synopsis: Pitbull harasses women on the dance floor while Ne-Yo croons obliviously.
Video moral: Do what you know.
'80 hit it salutes: "Poison" (Alice Cooper)
Audio clip: Adobe Flash Player (version 9 or above) is required to play this audio clip. Download the latest version here. You also need to have JavaScript enabled in your browser.
"Last Friday Night (T.G.I.F.)" – Katy Perry
About the artist: Katy Perry gives it 110%, with "it" being the effort to atone for her gospel origins.
Song description: Kinky guitar and twang-bass accompany lists of loose behavior.
Video synopsis: A cast of has-beens ridicule orthodontics.
Video moral: n/a
'80 hit it salutes: "Everlasting Love" (Rex Smith and Rachel Sweet)
Audio clip: Adobe Flash Player (version 9 or above) is required to play this audio clip. Download the latest version here. You also need to have JavaScript enabled in your browser.
"The Edge of Glory" – Lady Gaga
About the artist: Lady Gaga has given heart, soul and eyebrows to her art.
Song description: Closing-credit pop on cruise control.
Video synopsis: Carol Channing rules the backstreets.
Video moral: Missing: one pair of pants.
'80 hit it salutes: "With or Without You" (U2)
Audio clip: Adobe Flash Player (version 9 or above) is required to play this audio clip. Download the latest version here. You also need to have JavaScript enabled in your browser.
"E.T." – Katy Perry featuring Kanye West
About the artist: Katy Perry is an activist for battling self-esteem issues through undressing and/or drawing attention to one's breasts.
Song description: Minor key eurodisco bookended by gap raps.
Video synopsis: Aliens discover one another while enduring taunts from an earth man.
Video moral: [See the one for Lady Gaga above.]
'80 hit it salutes: "Adult Education" (Hall and Oates)
Audio clip: Adobe Flash Player (version 9 or above) is required to play this audio clip. Download the latest version here. You also need to have JavaScript enabled in your browser.
"Super Bass" – Nicki Minaj
About the artist: In French, Nicki Minaj's stage name means "a collection of animals."
Song description: Idle telephone chatter broken up by crocodile tear choruses.
Video synopsis: A cosmetics ad on acid.
Video moral: All colors now on clearance.
'80 hit it salutes: "If You Leave" (OMD)
Audio clip: Adobe Flash Player (version 9 or above) is required to play this audio clip. Download the latest version here. You also need to have JavaScript enabled in your browser.
"Moves Like Jagger" – Maroon 5 featuring Christina Aguilera
About the artist: Maroon 5's singer is soul brother to the soul sister who listens to Mr. Mister.
Song description: A faithful inversion of that classic Rolling Stones sound.
Video synopsis: Audition footage interspersed with sped up clips of Jagger moving like Chaplin.
Video moral: Just wing it.
'80 hit it salutes: "Mister Sandman" (Emmylou Harris)
Audio clip: Adobe Flash Player (version 9 or above) is required to play this audio clip. Download the latest version here. You also need to have JavaScript enabled in your browser.
"How to Love" – Lil Wayne
About the artist: Lil Wayne's name looks especially "lil" minus the word "featuring."
Song description: Lil Wayne simultaneously sings and justifies the invention of Auto Tune.
Video synopsis: Lil Wayne hides underground while real life unfolds above.
Video moral: Better see a doctor.
'80 hit it salutes: "Drive" (The Cars)
Audio clip: Adobe Flash Player (version 9 or above) is required to play this audio clip. Download the latest version here. You also need to have JavaScript enabled in your browser.
"Tonight Tonight" – Hot Chelle Rae
About the artist: Hot Chelle Rae have some growing up to do.
Song description: Vocal hooks only an ad man could love.
Video synopsis: Odysseys through bureaucracy, the mockery of children, and Glass Tiger concerts.
Video moral: Fame is fickle, tattoos are forever.
'80 hit it salutes: Oops – this one actually pays heartfelt tribute to first-wave late '60s/early '70s bubblegum, complete with calypso lacings. "Jingle Jangle" (The Archies), "Lay a Little Lovin' On Me" (Robin McNamara).
Audio clip: Adobe Flash Player (version 9 or above) is required to play this audio clip. Download the latest version here. You also need to have JavaScript enabled in your browser.
"The Lazy Song" – Bruno Mars
About the artist: Bruno Mars is currently working on a bad language Curious George soundtrack.
Song description: Corrupted Caribbean kids' music.
Video synopsis: Bruno Mars dances with has-beens Lancelot Link and the Evolution Revolution.
Video moral: If at first you don't succeed, drop your pants.
'80 hit it salutes: "Down Under" (Men at Work)
Audio clip: Adobe Flash Player (version 9 or above) is required to play this audio clip. Download the latest version here. You also need to have JavaScript enabled in your browser.
"Good Life" – OneRepublic
About the artist: OneRepublic's singer's hat is pure Sinatra.
Song description: OneRepublic's whistle hook is pure Mathis.
Video synopsis: A pop group is everywhere, yet nowhere.
Video moral: If a pop group lip synchs in a field and even makes the Top Ten, does anybody hear?
'80 hit it salutes: "Shout" (Tears for Fears)
Audio clip: Adobe Flash Player (version 9 or above) is required to play this audio clip. Download the latest version here. You also need to have JavaScript enabled in your browser.
"Lighters" – Bad Meets Evil featuring Bruno Mars
About the artist: Bad Meets Evil is a layer of the Eminem stage name onion.
Song description: Enimen draws blood, Bruno Mars applies cotton.
Video synopsis: Eminem broods, goes ballistic, frees a criminal.
Video moral: Now available: the 2012 Dodge Charger SRT8.
'80 hit it salutes: "Right There Waiting" (Richard Marx)
Audio clip: Adobe Flash Player (version 9 or above) is required to play this audio clip. Download the latest version here. You also need to have JavaScript enabled in your browser.
"Just Can't Get Enough" – Black Eyed Peas
About the artist: The Black Eyed Peas currently scour the tackle box for spare hooks.
Song description: Like Depeche Mode's "JCGE" minus the memorable parts.
Video synopsis: Tokyo: crossroads of East and West, old and new, industry and ennui.
Video moral: Maybe try a new hobby.
'80 hit it salutes: "Valotte" (Julian Lennon)
Audio clip: Adobe Flash Player (version 9 or above) is required to play this audio clip. Download the latest version here. You also need to have JavaScript enabled in your browser.
"On the Floor" – Jennifer Lopez featuring Pitbull
About the artist: Like Pitbull, Jennifer Lopez never shows up without a posse.
Song description: "Lambada" simplified and dressed in gold lamé.
Video synopsis: Pitbull domineers spray painted women; J-Lo looks the other way.
Video moral: Pitbull is in the house. Pitbull never leaves the house.
'80 hit it salutes: "Lambada" (Kaoma)
Audio clip: Adobe Flash Player (version 9 or above) is required to play this audio clip. Download the latest version here. You also need to have JavaScript enabled in your browser.
"The Show Goes On" – Lupe Fiasco
About the artist: Lupe Fiasco is always "on."
Song description: Gap rap over borrowed tracks.
Video synopsis: A boastful journey through an endless corridor.
Video moral: Exit this way.
'80 hit it salutes: "Karma Chameleon" (Culture Club) (They're both beholden to Pachelbel's Canon)
Audio clip: Adobe Flash Player (version 9 or above) is required to play this audio clip. Download the latest version here. You also need to have JavaScript enabled in your browser.
"I Wanna Go" – Britney Spears
About the artist: Britney Spears has a right to wear her mouse t-shirt.
Song description: Seven dwarf whistle chorus = Disney magic.
Video synopsis: Britney's tired of being good, pt. XXIV.
Video moral: Robots heart Britney.
'80 hit it salutes: "Gimme Gimme Gimme" (Erasure)
Audio clip: Adobe Flash Player (version 9 or above) is required to play this audio clip. Download the latest version here. You also need to have JavaScript enabled in your browser.
"Till the World Ends" – Britney Spears
About the artist: Britney Spears is an apocalypticist for millennials.
Song description: Eurodisco Arcade Fire.
Video synopsis: Doomsday sewer dancing.
Video moral: Invest in gold if you can.
'80 hit it salutes: "Tarzan Boy" (Baltimora)
Audio clip: Adobe Flash Player (version 9 or above) is required to play this audio clip. Download the latest version here. You also need to have JavaScript enabled in your browser.
"Dirt Road Anthem" – Jason Aldean
About the artist: Jason Aldean last captured hearts with a song about doing donuts in a tractor.
Song description: Historic country rap foretells future mergers.
Video synopsis: A man wearing a cowboy hat and earrings dances "the sumo."
Video moral: Male country singers can wear earrings. Male country listeners better not.
'80 hit it salutes: "Never" (Heart)
Audio clip: Adobe Flash Player (version 9 or above) is required to play this audio clip. Download the latest version here. You also need to have JavaScript enabled in your browser.
"Pumped Up Kicks" – Foster the People
About the artist: Foster the People currently idle at a Beck-or-Sugar Ray fork in the road.
Song description: Disembodied chants and a whistle chorus over a rumble strip beat.
Video synopsis: Three California kids with cash to burn go slumming.
Video moral: Locals only.
'80 hit it salutes: "Trouble" (Lindsey Buckingham)
Audio clip: Adobe Flash Player (version 9 or above) is required to play this audio clip. Download the latest version here. You also need to have JavaScript enabled in your browser.
"Skyscraper" – Demi Lovato
About the artist: Demi Lovato peddles pain.
Song description: Crocodile tears over Coldplay piano.
Video synopsis: A girl who's been kicked out of her boyfriend's car compares her plight to 9/11.
Video moral: Wear shoes.
'80 hit it salutes: "Faithfully" (Journey)
Audio clip: Adobe Flash Player (version 9 or above) is required to play this audio clip. Download the latest version here. You also need to have JavaScript enabled in your browser.
"Look at Me Now" – Chris Brown featuring Lil Wayne and Busta Rhymes
About the artist: Chris Brown: still around.
Song description: Subwoofer gap rap sprinkled with snake charmer synth.
Video synopsis: Dancing, dice and vandalism in a parking garage.
Video moral: Old school got skillz.
'80 hit it salutes: "Going Back to Cali" (LL Cool J)
Audio clip: Adobe Flash Player (version 9 or above) is required to play this audio clip. Download the latest version here. You also need to have JavaScript enabled in your browser.
"I'm On One" – DJ Khaled featuring Drake, Rick Ross and Lil Wayne
About the artist: DJ Khaled is an advocate for loiterers' rights.
Song description: Traffic light-rattling gap rap.
Video synopsis: Self-praises are uttered, victories are signalled, significant actions are not taken.
Video moral: Believe in yourself, even when doing nothing.
'80 hit it salutes: "Little Lies" (Fleetwood Mac)
Audio clip: Adobe Flash Player (version 9 or above) is required to play this audio clip. Download the latest version here. You also need to have JavaScript enabled in your browser.