"Rollerdream" – My Bay City Rollers Tribute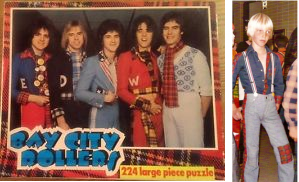 This is a 52-minute audio jigsaw tribute I've created for the Bay City Rollers, whose records I listened to as a kid and who I also dressed up as for the Jackling Elementary Halloween Parade in Oct. '78 (see above). I call it "Rollerdream." Cirque du Soleil will please contact me in private about using this for a Las Vegas Beatles Love-style extravaganza.
"Rollerdream" by DJ Kim
Audio clip: Adobe Flash Player (version 9 or above) is required to play this audio clip. Download the latest version here. You also need to have JavaScript enabled in your browser.
The "Rollerdream" roadmap:
00:00 Tartan Horde – "Bay City Rollers We Love You"
00:30 Bay City Rollers – "Shang a Lang" + with fangirls singing and screaming.
02:00 Bay City Rollers – "Remember (Sha La La La)" (w/ "All of Me Loves All of You" guitar)
02:37 Bay City  Rollers – "All of Me Loves All of You"
02:52 (interlude) The Ronettes – "Baby I Love You"
03:00 Bay City Rollers – "Summer Love Sensation"
03:35 Bay City  Rollers – "All of Me Loves All of You" + "Saturday Night"
03:50 Bay City Rollers – "Saturday Night"
04:58 (interlude) Gary Glitter – "I Didn't Know I Loved You Til I Saw You Rock and Roll" (+ "Saturday Night")
05:28 Bay City Rollers – "Keep on Dancing"
05:52 Bay City Rollers – "Rock and Roll Honeymoon" (+ "Saturday Night")
07:08 Bay City Rollers – "Let's Go (A Huggin' and A Kissin' in the Moonlight)"
07:48 (interlude) Tim Moore – "Rock 'N Roll Love Letter"
07:55 Bay City Rollers – "Rock 'N Roll Love Letter"
09:11 Bay City Rollers – "Dedication"
11:10 Bay City Rollers – "Eagles Fly"
12:10 (interlude) Kiss – "Hard Luck Woman" (+ Bay City Rollers – Marlena")
12:25 Bay City Rollers – "Shanghai'd in Love" (+ "Eagles Fly")
12:53 Bay City Rollers – "Beautiful Dreamer" (+ "Dedication" + Slade – "Cum on Feel the Noize")
14:01 Bay City Rollers – "Wouldn't You Like It"
17:04 Bay City Rollers – "Yesterday's Hero" (+ Cliff Richard + fangirls)
19:18 Bay City Rollers – "Too Young to Rock and Roll"
21:28 Bay City Rollers – "I Only Wanna Dance with You"
21:50 (interlude) Dusty Springfield – "I Only Want to Be with You"
21:57 Bay City Rollers – "I Only Wanna Be with You"
24:04 Bay City Rollers – "Rock and Roller"
25:44 Bay City Rollers – "Money Honey"
28:14 (interlude) Stevie Wonder – "Superstition"
28:24 Bay City Rollers – "The Disco Kid"
29:50 Bay City Rollers – "Love Fever" (+ "Are You Cuckoo")
30:37 The Rollers – "Life on the Radio"
30:50 Bay City Rollers – "You Made Me Believe in Magic"
31:59 Bay City Rollers – "Inside a Broken Dream"
33:17 Bay City Rollers – "The Way I Feel Tonight"
35:59 Bay City Rollers – "It's a Game" (+ BCR radio ad)
36:18 (interlude) David Bowie – "Rebel Rebel"
36:26 Bay City Rollers – "Rebel Rebel"
37:54 (interlude) Sid & Marty Krofft Bay City Rollers Show intro
38:00 Bay City Rollers – "When I Say I Love You (The Pie)" + "All of the World Is Falling in Love" + "Saturday Night"
39:02 Rollers – "Stoned Houses #2" + Roller TV voices
39:29 Rollers – "Stoned Houses #1" + Roller TV voices
40:14 Rollers – "Elevator"
41:38 Rollers – "Who'll Be My Keeper"
42:39 Bay City Rollers – "You're a Woman"
42:47 Rollers – "Instant Relay"
44:18 Rollers – "Turn on Your Radio" (+ Bay City Rollers – "The Bump")
46:00 Rollers – "Roxy Lady" (+ TV documentary voice + fangirls)
47:07 Rollers – "God Save Rock and Roll" (+ "Saturday Night" + fangirls)
49:19 Rollers – "Life on the Radio"
49:52 Tartan Horde – "Rollers Show" (+ Rollers – "I Was Eleven")