Joe Jackson, A Cure for Gravity: A Musical Pilgrimage (1999)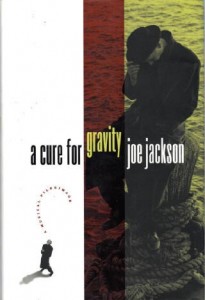 What you may not know about Joe Jackson's A Cure for Gravity, in case you've thought about reading it, is that it only covers his formative years up to Look Sharp (1979), his first LP. Any insights we get into his later years as an established recording artist – of which there are generous helpings, actually – come only in support of this earlier part of his story.
This is fine because his book's main idea is that his own self-discovery as a musician is just one phase, however significant, of an ongoing process, and you get the clear sense that Jackson hasn't written the book so much to memorialize himself but to do something useful – even charitable – for his audience. Most of us are likely going through similar processes, he suspects, and his own experiences, however music-specific they may seem, are applicable to anyone who may be feeling the urge to reach a bit higher than usual or let loose some essential aspect of inner self.
He's not ever saying he's "made it" – just that he's reached a level of satisfaction in his line of work that has mostly come through sticking to his guns. Certain drive-by critics have accused Jackson of elitism, acerbity and dilletantism (each of which he is quite aware of), but these are easy misinterpretations of idealism, intelligence, and curiosity; or, in one sweeping stroke, simple determination. It's perhaps easy to forget, amid all of his own recorded sarcasm, how full his catalog is of positive messages ("Go For It" and "The Wild West" kept ringing in my head as I was reading). I guarantee that if you make it to the end of the book, where he declares himself an optimist, you'll believe him.