Chuck Culpepper, Bloody Confused: A Clueless American Sportswriter Seeks Solace in English Soccer (2007)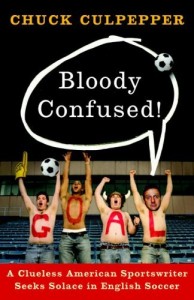 I started following the English Premiership habitually in the early 2000s for precisely the opposite reason why US sportswriter Chuck Culpepper did, as chronicled in his Bloody Confused. I needed a break from partisanship. A diehard Utah Jazz fan then as now, I was still smarting from our two championship losses in a row at the hands of Captain Underpants. Having played a good bit of soccer in my day and already a tad anglophilic, the Premiership offered a wide expanse of history and drama that I could take in dispassionately and enjoy from afar, stress-free.
Have you ever watched an entire soccer game on, say, the Fox Soccer Network? It's positively soothing – two separate 45 minute-plus segments of uninterrupted action. Here in the US it's all about stops and starts and jarring, noisy commercial breaks that jackhammer themselves into our brains during every TV viewing of any of our big 3 sports. It ought to give you a headache and I worry about you if it doesn't. (Face it, Super Bowl hypemeisters – even the greatest, most expensive and inventive commercials imaginable are best when nonexistent. Because they're commercials.)
Culpepper, on the contrary, a burned out American sportswriter, sick of all the canned and cliché-ridden interviews, big money corruption at the lowest of levels, steroid millionaires attributing touchdowns and home runs to the Almighty, and, yes, the ice-cold impartiality that sportswriters are expected to develop, is yearning to rediscover the heartbeat in good old fashioned, devoted sports spectatorship. So he moves to England, where thick-skinned fan loyalty runs rampant and where sports culture has gotten a centuries-long head start.
He then launches a season-long quest for a team to support, by the end of which he's become a true-blue "Up Pompey" fan of Porstmouth FC (bless his heart – have you seen the tables lately?). In so doing, he's able to talk about all kinds of little details that American followers of the Premiership will likely appreciate most. (Just about any other book you'll read about Euro soccer, including Nick Hornby's seminal Fever Pitch, takes cultural familiarity with the sport and its historical checkpoints for granted.)
These details include: fan behavior (focused reticence alternating with song bursts, as well as a wholehearted willingness to hug total strangers); the profanity-laden group sings; the train rides; the fan rivalries (hardly the hooligan horror show, nowadays, we're led to believe over here); the inability to get a ticket for key matches if you don't have a "buying history"; what it's like to visit Old Trafford — England's Yankee stadium and home of Manchester United — as well as Plainmoor, home of League Two's Torquay United (League Two is actually the name of the fourth-tiered league); and what drives fans in a league with no NFL-style parity and where the same four teams usually win it all over and over again (answers: the relegation system and DNA, among other things).
Speaking of DNA, Culpepper's willingness to openly shop for a team in a land where team loyalty is involuntarily inscribed at birth in said DNA is amusing. In one scene he tells some Newcastle supporters, who are essentially England's long-suffering Cub fans, how he'd once been on the verge of "picking" their team for his own. Their words upon parting: "It's not a choice." Being a Jazz fan who'd likely change team support, if I only could, to some perennial championship contender like the odious Lakers, but knows it's impossible, this resonated with me.
His reasons for going along with Portsmouth, though, are believable, and I, for one, didn't find myself second guessing his eventual allegiance. His reasons: A certain indefinable charm and personal attraction, along with good rapport with Porstmouth fans he found himself crossing paths with often, including a likeable guy who dresses up in a blue bear outfit before every game. Now what's not to like about that? And Culpepper's description of the euphoria and agony true fans are supposed to feel are convincing. He's associated himself with the club in a way that will have readers wondering how Culpepper felt about the team's highly improbable FA Cup victory in 2008 (you can find out here, actually) as well as their current financial traumas and residence in last place.
Portsmouth, in fact, if things don't change soon, are looking at relegation at the end of this season. This is an aggravating but wonderful system in British soccer (and pretty much everywhere else but here) where teams that finish the season in the last three slots get dumped to a lower league while the three top teams from that lower league get promoted. It adds a whole new dramatic "playing for safety" element to a season that's an altogether foreign concept to Americans. I can testify of the relegation system's power because it's responsible for bringing me down from my once-blissful state of Premiership impartiality.
I'd started keeping my eye on the small London club Fulham FC when they promoted to the Premiership in 2001 – the first time ever since their formation in 1879. They were a long time favorite of a European friend of mine and their every success made me think of how much I knew it pleased him. Then I found myself taking an irresistible shine to this relatively humble and easily ignored team that plays at a charming stadium on the River Thames called Craven Cottage, in honor of the centuries-old hunting lodge that's a stadium fixture. The team's nickname, thus, is the "Cottagers," one rivaled only by Everton's "Toffees" in instant charm.
Anyway, I started getting that unmistakeable feeling of personal investment during the turbulent 2007-08 season, when, by season's end, it looked like Fulham's basement habit would be bringing their Premiership run to a close. With three games left, they faced certain relegation barring a rare surge of good fortune. Incredibly, they won the first two of those last three games, including a dramatic come-from-behind victory at Manchester City. On the last day of the season, though, they still had big trouble, with Reading and Birmingham City, their two basement rivals, having already won. If they lost their last game against, ahem, Portsmouth, or even drew, they were going down. If they won, they'd barely – I mean barely – survive.
Well, they won that final away game with a Danny Murphy header in the 76th minute, and I've never come down from that now-legendary "Great Escape." Fulham may have escaped relegation, but I did not, having de-evolutionized to the type of person who mutters expletives during moments like the present when Fulham struggles with key soccer concepts like scoring goals, and who nonetheless plans inevitable pilgrimages to Craven Cottage, even if the club were to someday find itself in League Two. And while my high-minded, dispassionate era was kinda pleasant while it lasted, my response to Bloody Confused and Culpepper's immersion in fandom was ultimately one of envy, and although he writes that it's "hard being a fan," my own experience tells me that it's harder, apparently, not to be one.
Fulham's "Great Escape," featuring Jimmy Bullard, Danny Murphy, Brian McBride and Roy Hodgson as The Magic Manager.