Iron Butterfly channeling Hawaii Five-O or vice versa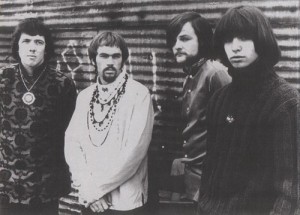 It's fun listening to Iron Butterfly because they temper all their heavy handedness with sprightly organ pop. Just listen to side one of In-A-Gadda-Da-Vida and see what I mean. Even more appealing to me is how they occasionally evoke – whether unwittingly or not – certain soundtrack elements of Hawaii Five-O. One of my favorite musical bits Morton Stevens did for the show is a bit of furrowed-brow exotica I think of as the "busybody theme" – it plays either while Danno, Chin and the rest, all dressed in suits, go marching around the entire island, knocking on doors, peeking down manholes, burrowing through gardens, and sticking their arms in fishbowls, all under the orders of McGarrett. It also plays while bad guys are shown making nefarious preparations – licking stamps and sticking them on piles of boxes full of counterfeit money, putting all 450 pieces of a sharpshooter together, etc. The "busybody theme" makes this all quite tolerable. So here it is, along with two Iron Butterfly classics that have Five-O written all over 'em.
(For the record, the first season debuted in '68 while these two IB songs came out in '69. Also for the record, Mike Quigley's longstanding collection of episode "anal-yses" at the Hawaii Five-O Home Page has to be one of the seven wonders of the virtual world.)
Update: After touching base with Mr. Mike at H50HQ, I realize now that I'd mistaken the music I first posted – which debuted in the sixth season "Hookman" episode – with a very similar sounding "busybody" predecessor heard all throughout the previous seasons. I've now posted that earlier theme at the top with the "Hookman" version below it.
Morton Stevens – Hawaii Five-O "Busybody Theme"
Audio clip: Adobe Flash Player (version 9 or above) is required to play this audio clip. Download the latest version here. You also need to have JavaScript enabled in your browser.
Morton Stevens – Hawaii Five-O "Hookman Busybody Theme"
Audio clip: Adobe Flash Player (version 9 or above) is required to play this audio clip. Download the latest version here. You also need to have JavaScript enabled in your browser.
Iron Butterfly – "Her Favorite Style"
Audio clip: Adobe Flash Player (version 9 or above) is required to play this audio clip. Download the latest version here. You also need to have JavaScript enabled in your browser.
Iron Butterfly – "I Can't Help But Deceive You, Girl"
Audio clip: Adobe Flash Player (version 9 or above) is required to play this audio clip. Download the latest version here. You also need to have JavaScript enabled in your browser.
posted by Kim Simpson