Sean Manning, ed., The Show I'll Never Forget (2007)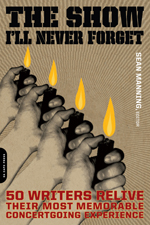 Most of the concerts I remember best are ones that have a side story that's ended up having more personal, symbolic meaning to me than the actual show. Like Cheap Trick in a tiny Salt Lake City club in '86 when a kleptomaniac friend of mine crept into the backstage area under the speakers to see what he could find. He ended up mangling up the electrical cords so badly on his way there that the entire stage blacked out in the middle of the group's first encore and everyone had to go home disappointed. Or my 80-year-old grandmother sneaking me, her underage grandson, into the nightclub at a San Francisco Hotel in '87 so I could experience Bobby Bland. Or Jeff Buckley in a small Austin coffeehouse in '93. My wife and I had gotten in free because I'd given the clubowner a Tim Buckley mix tape sometime before the gig. But the Christ-child aura surrounding Tim's son was so unbearably heavy for us – even back then – that four numbers into the show, a grizzled, old-timer friend of ours leaned over and said "let's go to Denny's" and we did. And Buckley ended up being a mere bit player (gasp!) in what nonetheless ended up as an entirely memorable evening.
I guess it's no surprise, then, that most of my favorite pieces in The Show I'll Never Forget, a collection of reminiscences of fifty (mostly fiction) writers, are ones where the pre- and post-show personal contexts are weightier than the shows themselves. Jerry Stahl can't separate a David Bowie show from a kind gesture Bowie had given him earlier in an interview, both of which nonetheless pale in comparison to Stahl's personal situation. David Ritz takes an unbelievable post-gig car ride with Jimmy Reed that's got nothing, overtly, to do with music. Richard Burgin finds himself having a candid, private conversation with Bill Evans in which music plays second fiddle. Heidi Julavits's encounter with Rush is a mere incidental in her relationship with a high school boyfriend and, on a larger scale, her hometown.
Because the number of contributors who are either regular music writers or actual musicians is in the single digits, the book benefits from so many fresh interpretations of musical experience (even while sagging from overloads of writerly wit). I especially like how this collection reveals how seasoned fiction writers can find themselves grasping for words in the face of a great pop music show (Diana Ossana, Samantha Hunt, John Haskell), and how seasoned music writers, on the other hand, can run the risk of squelching similar experiences with clomping boots of authoritative exposition (Gary Giddins, Harvey Pekar, Charles R. Cross). A small handful of pieces falls into the almost-too-slight-to-merit-inclusion category (Chuck Klosterman, Marc Bojanowski, Thurston Moore), and another falls into the too-recent-to-believe category (Alice Elliott Dark, and the closing piece by Daniel Handler and Andrew Sean Greer which is clever, but untrustworthy). Best of all are those pieces that are able to locate the concert experience as a memorable thread in a complex web and tell us how it fits. Yes – music listening and concert going are most satisfying when done for their own sake. Writing about them, though, happens to be a whole different story.
Here's my list of ten pieces I'll never forget from The Show I'll Never Forget:
1-David Ritz on Jimmy Reed
2-Ron Carlson on the Steve Abbot Benefit Concert
3-Richard Burgin on Bill Evans
4-Paul Muldoon on Horslips (some serious word pleasure here)
5-Heidi Julavits on Rush (featuring Neil, the armless, blind, and toothless drummer)
6-Robert Polito on The Pogues
7-Carl Newman on Redd Kross
8-Rick Moody on The Lounge Lizards (featuring a "rebuttal" from John Lurie)
9-Jerry Stahl on David Bowie (you start this one cringing then end up glowing)
10-Max Allan Collins on Kevin Spacey as Bobby Darin
posted by Kim Simpson