Tuesday, December 19th, 2006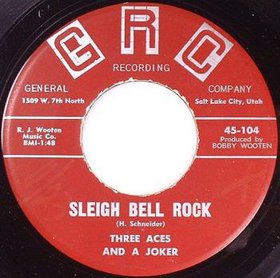 I've got a Rhino compilation from 1984 with this on it and here's what the liner notes reveal:
"This trio of honky tonk hipsters played the beer joints in the Salt Lake City area of Utah, and in 1959 they recorded this song for R.J. Wooten's GRC label. Radio programmers in Robert Hall Suits weren't ready for this!"
I grew up in Salt Lake and I can assure you that if you've ever wondered who the all-time reigning rock kings of the SLC scene might be, you'll never need to wonder again after listening to this shredder.
Update: Sources tell me the record actually came out in 1960.
Three Aces and a Joker – "Sleigh Bell Rock"
Audio clip: Adobe Flash Player (version 9 or above) is required to play this audio clip. Download the latest version here. You also need to have JavaScript enabled in your browser.