Sunday, September 20th, 2015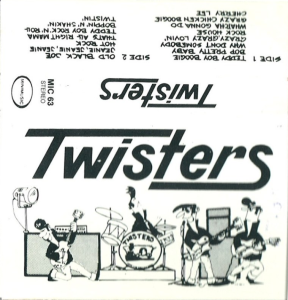 American rockabilly took hold of Finland and never let go. Something about it must have clicked with the national demeanor and sense of humor.
I found this 1980 live video from a group called the Twisters (led by Matti Miettinen) and watched it over and over. They're doing a version of "Why Don't Somebody" by Welsh Teddy Boy group Crazy Cavan and the Rhythm Rockers, who they cover five times on their cassette. (An alternate version of the cassette featured cover art with the Confederate stars and bars, which the scene had latched onto long ago.) While Crazy Cavan's original (recorded in '77) is a more settled-in Scotty-and-Bill situation, the Twisters give it a young punk's sense of tension, with ratatatting lead guitar, right arms pumping in sync, and sober countenances. I like it better than the original, filled as it is with the kind of artistic virtue only inexperience can provide.
The performance happens in a town near Helsinki in front of one of Finland's ubiquitous Sokos department stores. Mothers mind their bemused children, heads nod slightly, and rockabilly kids cluster and lean against walls. It ain't no rumble, but it's still rock 'n' roll.
The Twisters – "Why Don't Somebody (live)" (1980)
Crazy Cavan and the Rhythm Rockers – "Why Don't Somebody" (1977)