Love Story (2008)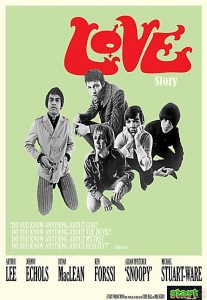 It's hard not to get completely enamored with Love. The first time I actually held a copy of Forever Changes in my hands, back when I was a used record shop-burrowing teen (no real changes there, other than the teen bit), I couldn't take my eyes off of that back cover photo. And the music, of course, tossed me into the cauldron of kaleidoscope potion the way it does to everyone. Just sat there, listening and listening. Da Capo had the same effect, with its fascinating b&w band collage – the king, Arthur, at the fore, and his six magical friends, including faithful tagalong Snoopy with his eyes fixed upward. For hopeless fans like me, the new Love Story documentary by Chris Hall and Mike Kerry feels like a very special reward, because:
–It's got loads of interview footage with Arthur Lee not long before he passed away (in 2005). When you watch it, you realize that the man never, ever stopped being Arthur. He was relevant, cool, and powerful until the very end, and as the show progresses you'll get that same feeling of gratitude you got when you first saw one of his live comeback shows and/or heard his live recordings. Some revelations: Arthur felt bashful for a long time about Forever Changes when he later hooked up with the non-classic fur ball Love lineups, hence the seemingly longstanding about-face. Also, he regrets filling side 2 of Da Capo with "Revelation."
–It's got great footage with John Echols, who's quite the charismatic, well-spoken figure. Revelations here, too: As he tells it (in the bonus footage), he is solely responsible for the darkly famous lyrics of "Hey Joe." According to him, Love had been doing raveups of the Billy Roberts/Dino Valenti song pretty regularly and when members of the Leaves asked him for the lyrics, he mischievously scribbled out some words about "shooting my baby down" with a "blue steel .44″ which he knew would never fly – that is, until the Leaves ended up scoring with the first Top 40 hit version of the song using John's own lyrics.
–It's got other live interviews with: Snoopy (with some hard-to-forget footage of him doing some of his own songs); Michael Stuart-Ware, whose Behind the Scenes on the Pegasus Carousel is essential reading for Love fans and a smart rock memoir; taped audio interview footage with the late Ken Forssi; and live footage with the late Bryan MacLean, whose Sundazed compilations and solo CD, finished just before he died in 1998, are also crucial if you want to understand just how charmed the ingredients were that the short-lived band had at its disposal.
posted by Kim Simpson