Song ID: John Christie – "4th of July" (1974)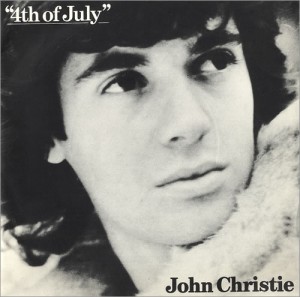 Rare little beauty written by Paul McCartney. This 45 is apparently John Christie's only release and also the only thing I know about him.
Update (12/06/10): My "only release" pronouncement has been mercifully disproven by Herman Hamerpagt (see comments below). Christie, who was a discovery of Dave Clark (of the Dave Clark 5) actually put out an album called Relax in '74 and had a hand in Clark's '80s musical Time. A record hunter's work is never done.
John Christie – "4th of July" (1974)
Audio clip: Adobe Flash Player (version 9 or above) is required to play this audio clip. Download the latest version here. You also need to have JavaScript enabled in your browser.