Joe Boyd, White Bicycles: Making Music in the 1960s (2007)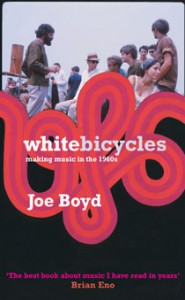 Tales of an eminence grise. If you carry a torch for '60s British folk rock, like I do, you probably already revere Joe Boyd as the one who brought us Fairport Convention, the Incredible String Band, John Martyn, Vashti Bunyan and Nick Drake, among others. An American expat, his UK-based Witchseason Productions (he named it after Donovan's "Season of the Witch," with that line, "beatniks out to make it rich!") hardly made a fortune with these artists at the time, but they've proven to have longevity like nobody's business.
Nick Drake, for one, may as well be approached as a present day artist, so all-pervasive is his influence. The embodiment of obscurity at the time of his death in 1974, his cult grew slowly and steadily until the late '90s, when his aching and solitary music broke, in a typically polluted contemporary manner, via a VW ad. Fairport, of course, were cult sequoias by the early '70s, while the ISB and Bunyan have been enjoying a recent spate of neo-folk adulation.
All of this recent interest likely prompted Boyd to write White Bicycles: Making Music in the 1960s, and I'm glad he did. It's got a similar vibe to the recent Dylan memoir in that it contains no re-imagined dialogue and takes us through a compressed tornado of names and vivid verbal snapshots. And you might not expect this, but it covers some of the same territory as Dylan's. As a young Harvard enrollee with an obsession for vintage jazz and blues, he became intimately familiar with the early '60s Village folk scene. And before setting up shop in the UK by mid-decade, he worked as a tour manager for (and protégé of) promoter George Wein.
This enabled Boyd to assemble European package tours including the likes of Muddy Waters, Sister Rosetta Tharpe, Rev. Gary Davis, Coleman Hawkins, and Roland Kirk. The job also gave him backstage passes to the influential Newport festivals. These are especially disarming sections—his first-hand descriptions of the iconic folk and blues musicians he worked with will glue your eyeballs to the page (Davis was an "alarming looking man" who fellow musicians like Tharpe hadn't seen the likes of—and would rather not have—for decades. Davis wins her over in the end).
And I'd go so far as to say that Boyd's recounting of the famous electric Dylan incident at the 1965 Newport Folk Festival is the most poignant, heart-heavy account I've ever read. Here's how he describes the backstage atmosphere post-Dylan: "The old guard hung their heads in defeat while the young, far from being triumphant, were chastened . . . The rebels were like children who had been looking for something to break and realized, as they looked at the pieces, what a beautiful thing it had been." There was "no point wondering whether it was for the better," writes Boyd, one of those rebels. "All we could do was to ride its ramifications into the future."
For Boyd, the next phase of this future was the UFO club in psychedelic-era London, where he, as one of the co-owners, booked formative gigs for Pink Floyd as well as Tomorrow ("love at first sight between them and [the UFO] audience"), Denny Laine and the Electric String Quartet (Laine "never got the recognition he deserved"), and one of his favorites, the Move ("a phenomenon few Americans had the privilege of seeing"). Mick Farren's Deviants, whose music Boyd hated, could only squeeze a single gig out of him as a token of thanks for their help around the club.
By the time he moved on to managing and producing British folk rock, the psychedelic connection proved to be a magic ingredient for him in a country that seemed to disdain its own folk music. The Incredible String Band, on the strength of their 5,000 Spirits or the Layers of the Onion album, with its mind-swirling cover art and border-free approaches to acoustic music, became one of Boyd's most reliable, top-drawing outfits. So entrenched in their times were the ISB, though, that they were doomed to being "terminally unhip" and remain an acquired taste.
But their influence has never really stopped simmering below the surface—those first four albums were just too adventurous and good. And for fans like me (I joined the cult after buying a cutout bin copy of Relics of the ISB at Musicland in the mid-'80s—never made any converts, alas), the opportunity to read extended inside info about them is a true pleasure. I know now that it was Scientology that killed the ISB. Boyd considers among his deepest regrets the fact that he'd left them at a restaurant with a friend of his who promptly converted them after Boyd left. I believe what he says, too, because their albums really did get dull (post-Wee Tam and the Big Huge) right about the time they started sipping the Hubbard hooch.
Boyd's reminiscences of Nick Drake will also draw in more than a few readers, although most of these will be already familiar with the Fruit Tree liner notes, and the info he gives us in White Bicycles don't add terribly much to those. It is a bit fascinating, though, to read his memories and musings on Drake at a time when he has effectively outsold all of the other Witchseason artists, and also to read his thoughts about the Drake-effect on indie folk: "I have listened to more than one man's fair share of anglophone singer-songwriters … Few bear comparison to Nick's form, much less his essence. The only ones who even slightly reminded me of Nick turned out to be unaware of him."
Boyd's 1960s end around the mid-'70s, when he'd relocated to LA to run the music depatment at Warner Bros Films and buried himself in making Jimi Hendrix, the first full-scale retrospective of the late guitar god's life. By this time, at the end of White Bicycles, you do get the sense that Boyd's got an extraordinary knack for foresight, even though his successes may not have followed any of the shorter-term courses he thought they might.
Be warned that the book can get pretty shop-talky and was probably intended for his music biz colleagues. This being the case, the names and business details and references whiz by pretty fast and may give you whiplash. But it's very much worth it. Rumor has it that Boyd will be writing about the world music revolution next, and as the helmsman for Hannibal records throughout the '80s, he's the right man to tell that tale. Maybe by the time it's out, Trio Bulgarka will have scored a VW ad of their own.