Josh Rosenthal, The Record Store of the Mind (2015)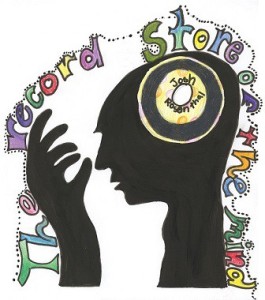 My personal mythology features a specific box of records. A friend gave it to me in the spring of 1985 when I was 16, and it had once belonged to an uncle of his who had died young in a motorcycle crash. The records in this box distracted me for months, if not years, and they've had a long-term impact on my life that I'm not sure has been entirely positive. One of these had an image of a crab carved out of wood on the front cover. The label said both "Crab Tunes" and "Noggins" and I never knew which was the album title and which was the group. The album chronicled what sounded like the evolution of two distinct songs on guitar, bass, drums, and piano including every false start, flub, and absent-minded improv along the way punctuated by two separate full-song interludes.
Another friend of mine developed a fascination with this record and always wanted to hear it. He had saved up money doing yard work to buy a Tascam 4-track, and the two of us more or less frittered away the summer of '85 making "crab tunes" of our own: barely listenable musical hiccups carefully captured and assigned to luxurious tracks on cassette tapes destined for shoeboxes. I recently found one of these and even heard us playing a motif that scurries in and out like a lost and confused crustacean throughout that entire album. Should we have used our time and musical initiative differently during those precious, formative days? A school of thought would certainly argue yes. But the album had affected us rather deeply, and that's what I'm getting at: Most record collectors likely end up doing what they do because certain records have broadsided them at unexpected times in unexpected ways.
My other point: When I first cracked open The Record Store of the Mind by Tompkins Square label owner Josh Rosenthal (who understands what I say about record collectors), I beheld the track listing for the Crab Tunes/Noggins album and gasped a bit. Rosenthal's product had zeroed in like a smart bomb on a member of its target audience who would succumb to it as expected. I trusted correctly that the book would fill me in on records with similarly impressive credentials in obscurity like Crab Tunes (even though the question of where I should file it – under C or N? – remains unanswered). Coinciding with his label's ten year anniversary, the book aims, as he puts it, to share with readers some of the "records, people, and live music experiences that have forever changed" the way he listens. It's all over the place, then, and that's a strength.
Tompkins Square first got my attention when I had started doing my International Folk Bazaar show on Austin's KOOP radio. I noticed that much of the new instrumental guitar music I was interested in giving airtime to was coming out on the label. I found out in time, though, that it was no mere genre exercise and that Rosenthal was a record man whose sense of aesthetics and personal curiosity were calling the shots. Scan the Tompkins Square catalog and you'll see that alongside the Imaginational Anthem guitar compilations and expansive meditations by UK guitarist James Blackshaw are releases by jazz pianist Ran Blake, British pop innovator Paddy McAloon's Prefab Sprout, country legend Charlie Louvin (with label-exclusive recordings), forgotten Texas gospel singer/pianist Arizona Dranes, cajun pioneer Armede Ardoin, and up-and-comers like Ryley Walker and Daniel Bachman.
The music and experiences Rosenthal shares with us in his book are similarly varied. He writes about his teenage days in Syosset in Long Island, where Hicksville's Billy Joel loomed large, where his buddy Judd Apatow (who would later find inspiration in Rosenthal for his film This Is 40) plotted a career in stand up comedy, where Eric Clapton's Just Another Night "embedded" itself on Rosenthal's soul, and from where he would steer his ship directly toward the music industry. The chapter about his tenure with Sony reminisces up close on working with Chris Whitley, T Bone Burnett, and Jeff Buckley, to name a few. (I was glad to read that the album cover for Grace, something that always seemed wrong to me, was not lost on some staffers.) The role of jazz in his musical upbringing gets a chapter, as do the acoustic guitarists who gave early shape to the label Rosenthal would launch, almost as a challenge to the skills he developed at Sony. (He's printed up a great set of trading cards called Obscure Giants of Acoustic Guitar, by the way.)
The lion's share of pages in The Record Store of the Mind, though, devote themselves to profiles of specific musicians, most of whom don't fit in a convenient category and who rightly deserve more of the meager spotlight fate has thus far granted them. Among these are Ron Davies, Tia Blake, Harvey Mandel (who's fighting cancer and could really use your help), Bill Wilson, Ernie Graham, Robert Lester Folsom, Smoke Dawson, and Mickey Jupp. You'll want to keep pen and paper handy as you read so you can make a hunting list – it's a record junkie's funbook.
Which brings up some questions. Why is Rosenthal telling us all of this? Wouldn't the more natural instinct for the record collecting personality be to keep more of the best record haunts mum and to preserve the shadows cast on treasured obscurities? Doesn't music run the risk of losing its savor the more it circulates? Do we want to hear Tia Blake's lonely voice on car commercials someday? Such questions would likely sound trivial in the ears of someone who heard the late Charlie Louvin utter the following words: "Now I pick up my guitar. My fingers won't work. The notes don't sound clear… and Lord, how that hurts. The sweet sound of life is so quickly fading. Still I strain to hear through the silence of aging." Thanks to people like Josh Rosenthal, more of life's sweet, age-proof sounds are indeed being heard.
(The Record Store of the Mind will be available October 27.)