My Three Suns, by Paul Borelli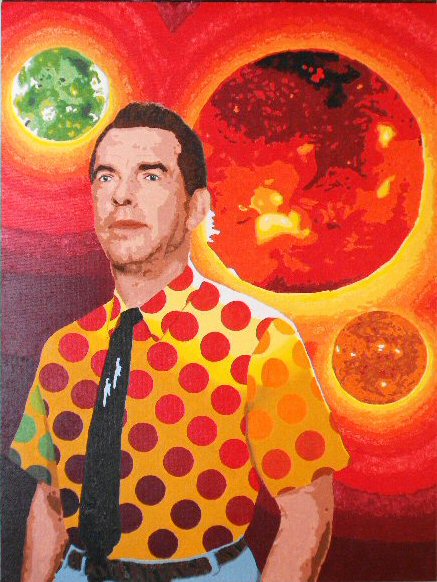 My friend Paul Borelli is a self-taught painter and the biggest Fred MacMurray fan I know of. This latest work of his is based on a photo from a Van Heusen shirt ad that appeared in mid-60s magazines.
The big news about this is that it will soon be added to the collection of the Museum of Bad Art, located in the basement of a community theatre in the Boston area. As Paul puts it, "I only recently became aware of their existence when I saw and purchased a book of their 'masterworks' at Book People here in Austin. Their web site also contains a gallery of some of their more dazzling pieces. I hope that they will see fit to add my work to their online gallery, where it could be seen and enjoyed by MOBA's over 10,000 members." Paul will be the first Austin artist to be curated by the MOBA, a true mark of distinction.
The portrait is also of personal significance to Paul, because as a "MacMurray-meets-Magritte treatment," it marks the "transitional point from my Paint-by-Numbers Period to my Pseudo-Realistic Period." It also prompted him to "read a few books about how to paint portraits more accurately." Paul is currently in the middle of a self-portrait (his second), which he hopes to show at the Self-Portrait Show at the Austin Figurative Gallery.
(By the way, did the Three Suns ever do a version of the My Three Sons theme?)