Song IDs: Willie Mays – "My Sad Heart"/ "If You Love Me" (1962)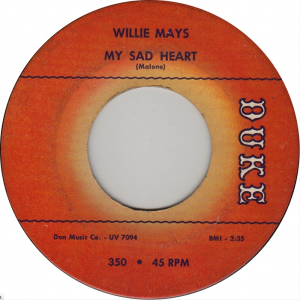 In the realm of musical recordings made by athletes, which includes such sobering entries as Terry Bradshaw's "I'm So Lonesome I Could Cry," Ron Cey's "Third Base Bag," and Shaquille O'Neal's "I Know I Got Skillz," this one's as good as it gets. Willie Mays's "My Sad Heart"/"If You Love Me" came out the same year his San Francisco Giants lost a hard-fought seven-game World Series to the New York Yankees, and it reveals a musical version of the Say Hey Kid as appealing as the famous baseball version.
We can tell from both sides of the record that Mays had good taste, demonstrating familiarity with Sonny Till and the Orioles (side A), Bobby Blue Bland (side B), and Little Willie John (side B). Writer credits for both went to Deadric Malone, the pseudonym for Don Robey, who owned the Duke-Peacock label empire. Before this, Mays had appeared on a 1954 cut credited to "Willie Mays of the New York Giants with the Treniers" called "Say Hey (the Willie Mays Song)," one of the other great baseball singles. Did any suspicion-prone baseball people notice in '62 that the previous time the Giants had won a pennant Mays also recorded a single? (1954 was the year the New York Giants swept the Cleveland Indians and Willie made his celebrated catch.) He should have been pumping out a record every year since then.
I'm hoping someone will step forward with footage of Willie Mays' 1962 appearance on Tennessee Ernie Ford's TV show to promote "My Sad Heart," which never ended up charting.
***
Willie Mays – "My Sad Heart" (1962) : Maybe this song's lack of chart success, come to think of it, had to do with its having no title hook.
Willie Mays – "If You Love Me" (1962)
Willie Mays of the New York Giants with the Treniers – "Say Hey (The Willie Mays Song" (1954)