Stars and Strikes and nicknames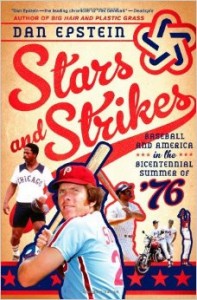 Dan Epstein's Stars and Strikes: Baseball and America in the Bicentennial Summer of '76 tells the story of my baseball card collection, most of which I amassed as an 8-year-old in '76 and '77. In those days I loved the Bird, the Big Red Machine, and Hostess products, which came in boxes with baseball cards you could cut out. Still have my Dave Concepcion, Goose Gossage, Richie Zisk and more from that series along with most of the Topps cards. I had already scarfed down Epstein's Big Hair and Plastic Grass, so I was especially pleased to see he'd zeroed in on the year of my personal baseball awakening. I hope he has more projects lined up.
For your enjoyment – a list of selected players and managers whose nicknames are addressed in Epstein's book, along with links to their corresponding '77 Topps card.
Sparky "Captain Hook" Anderson:  So nicknamed "for his tendency to pull pitchers at the first sign of trouble" (135).
John"The Candy Man" Candelaria: "Looked more like the sort of college kid you'd see smoking a jay upstairs in the cheap seats at Three Rivers Stadium than a top-notch pitcher capable of dominating major league offenses" (241).
Ron "The Penguin" Cey: Nickname "derived from his squat build, stubby limbs, and waddling gait…" (94).
Darrell "Nort" Chaney: Nickname chosen by the Atlanta Braves for the team's nickname-on-jersey experiment "because of his resemblence to Art Carney's Ed Norton character on TV's The Honeymooners" (138).
Mark "The Bird" Fidrych: So nicknamed because of his "resemblance to Big Bird from the PBS children's show Sesame Street" (128).
Tim "Crazy Horse" Foli: Nicknamed for his "tendency to go off on his own abrasive tangents" (158).
"Disco" Dan Ford: Nicknamed "for his love of the Minneapolis nightlife" (107).
Whitey "The White Rat" Herzog: "A reference to his shock of light blond hair" (258).
Burt "Happy" Hooton: He was "perpetually gloomy looking" (203).
Al "The Mad Hungarian" Hrabosky: "Perhaps the most confrontational pitcher in the game" (112).
Ralph "Road Runner" Garr: "Speedy" (15).
Randy "The Junkman" Jones: For his junk ball – a "sinking fastball that topped out on a good day at somewhere around 73 miles per hour" but which batters were "losing their minds trying to hit…out of the infield" (131).
Dave "Kong" Kingman: He preferred to be called "Sky King" (110).
Garry "The Secretary of Defense" Maddox: Because of his "startling speed and sparkling glove work in the outfield" (28).
Mike "Iron Mike" Marshall: For "herculean" performances in 1973 and 1974 that "earned him the first Cy Yound Award ever won by a relief pitcher" (62).
Andy "Bluto" Messersmith: As part of the Braves' nickname-on-jersey experiment, Messersmith had to use "Channel" because his number was 17 and that was Ted Turner's station. He was later permitted to use his college nickname "Bluto" (139).
Phil "Knucksie" Niekro: Knuckleballer (139).
Marty "Taco" Perez: Not a racial slur, but chosen as his Atlanta Braves jersey nickname because he "really, really liked tacos" (139).
George "Boomer" Scott: "The most feared hitter in the Milwaukee lineup" (131).
Earl "Heavy" Williams: Self-chosen for the Atlanta Braves nickname-on-jersey experiment "because the moody catcher and first baseman considered himself to be one bad dude" (138).
Players with Topps cards whose nicknames are mentioned but not addressed:
"Downtown" Ollie Brown
Rick "The Rooster" Burleson
Jim "Catfish" Hunter
Bill "Mad Dog" Madlock
Lynn "Big Mac" McGlothen
John "The Hammer" Milner
John "The Count" Montefusco
Dave "The Cobra" Parker
Biff "Poco" Pocoroba
Rick "The Whale" Reuschel
Fred "Chicken" Stanley
Dick "Dirt" Tidrow
Jim "The Toy Cannon" Wynn