Cruisin' with The Lost Beach Boy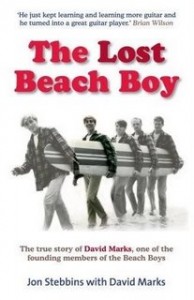 The resurfacing of David Marks has been one of the many happy developments in the Beach Boys saga. Marks joined the band when he was 13, replacing Al Jardine after the first single and appeared on the first four albums before an altercation with Beach Boy dad and manager Murry Wilson prompted his exit. Marks's precocious guitar chops were crucial to the band's early instrumental sound, a fact that gets overshadowed by their celebrated vocals and songwriting. You can read about Marks's contributions in Jon Stebbins's book The Lost Beach Boy (2007), which never strikes me as an overstatement of the case. It's loaded with valid info any Beach Boy fan will appreciate.
Be forewarned, though, that the The Lost Beach Boy is a frustration fest recounting the following: David's blustery departure from the group; Murry's possible efforts to blacklist David Marks and the Marksmen from the airwaves; the undeserved commercial failure of his psychedelic group The Moon; the premature replacement of David by Eric Clapton in Delaney and Bonnie's band; Joe Cocker's Mad Dogs and Englishmen tour wrecking David's house; a falling out with buddy Warren Zevon, who thought Marks was having an affair with his wife; David getting off on the wrong foot with Phil Everly after meeting him; drug and alcohol abuse for several lifetimes; financial rollercoasters and more.
Cutting through all of this, though, is the clear sense that Marks takes full ownership of his disappointments and relishes every opportunity to continue associating with the extended Beach Boys family. This is also evident in Marks's interviews and general demeanor elsewhere (I love this recent series of YouTube videos, for example, in which Marks gives an uber-simpatico clinic on Beach Boys guitar at Hawthorne High). The happiest result of my reading of The Lost Beach Boy, though, was the long stretch I spent with David Marks and the Marksmen's Ultimate Collectors Edition on repeat in my car. (You'll have to download it from Amazon – it's currently not available for an affordable price any other way.) Give a listen to this muddy but eminently cool 1964 B-side and see why it might have that effect.
David Marks and the Marksmen – "Cruisin'" (1964)
Audio clip: Adobe Flash Player (version 9 or above) is required to play this audio clip. Download the latest version here. You also need to have JavaScript enabled in your browser.