Remembering Liberace, Pt. 2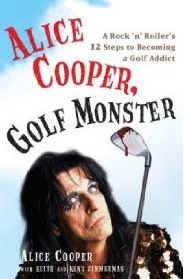 I came across this anecdote when I was reading Alice Cooper's Golf Monster last summer, and I guess it will now accompany every Liberace encounter I'll ever have. Take it away, Alice:
Liberace had two dressing rooms. He had his meet-and-greet dressing room and another private area for his closest friends. We went back to the meet-and-greet room, and he told us, "Look, if you guys could just wait in the other room, that would be great."
Inside the meet-and-greet room were all these little old ladies filing in and out. Liberace was showing off his jewels. He had a couple of little dogs yapping around him.
Now, this is the weird part.
As soon as everybody leaves, Liberace kicks the dogs away. "Get these freakin' mutts outta here. They're drivin' me nuts."
It was Liberace speaking in a voice I'd never heard him speak in before. It wasn't the lazy-tongued effeminate Liberace voice. It was a regular, straight-guy voice.
"Where's my beer?" he shouted.
No kidding. Then Liberace comes out wearing a pair of Levi's, a white T-shirt, and cowboy boots. "Hey, guys, let's go grab a beer someplace. Don't worry. Nobody'll recognize me". . .
If he was messing with us, he was really good at it.
posted by Kim Simpson