Mel Tormé – "Games People Play" (1969)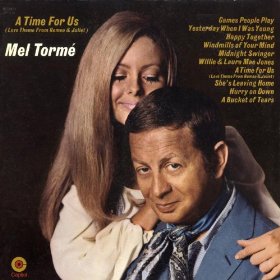 The effect of the late sixties/early seventies on popular music's old guard is worthy of a book. But I think if each tablespoon of "Golden Throats"-style camp and ridicule required to market and sell the book was matched with at least an equal portion of respect and/or compassion, it would be closer to what the doctor ordered. I got to talking about this stuff once with my dad, who used to play in show bands for countless oldies-but-goodies acts in the late sixties/early seventies, and his comment that "that era scared the hell out of a lot of people" has always stayed with me. And it wasn't the turbulent politics or volatile cultural divide we were talking about so much as the jarring, disorienting changes in the pop music playing field.
The collective memory of this era is Bing Crosby singing "Hey Jude," Mel Tormé in a cravat (see above), and Elvis shaking hands with Nixon. Less memorable are details of the dogged efforts classic vocalists like Tony Bennett and Andy Williams made to keep active and stay at least somewhat relevant by releasing steady streams of movie theme LPs and hair-trigger reinterpretations of contemporary hits. (Tony Bennett, according to Stan Cornyn in Exploding, was a standards purist who dragged his feet throughout the entire era.) Or songwriting legend Sammy Cahn prematurely publishing his memoirs in 1974 (I Should Care) when he ended up having an illustrious career of songwriting and songwriting advocacy still ahead of him (Cahn assumed leadership of the Songwriters' Hall of Fame in the early 80s). Or this absolutely nifty – under any standard – cover by Mel Tormé (see above) of Joe South's "Games People Play." That's LA studio legend Carol Kaye tearing the house down on bass.
Mel Tormé – "Games People Play"
Audio clip: Adobe Flash Player (version 9 or above) is required to play this audio clip. Download the latest version here. You also need to have JavaScript enabled in your browser.