Song ID: Boomtown Rats – "I Don't Like Mondays" (1979)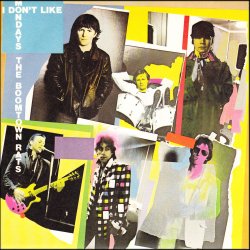 During my three years in junior high school in Salt Lake City (1981-1984), they marched all students into the auditorium one time each year to watch a 45 minute pop music show. I'll bet all junior high schoolers in the area during those years saw the same three assemblies/shows, each of which featured a brief "don't do drugs" or "don't drop out" message. The shows were:
1 – A rock group of frizzy-haired characters called "Freedom Jam." They dressed in Revolutionary War suits like Paul Revere and the Raiders and played a whole bunch of covers, mostly from REO Speedwagon's Hi Infidelity album. Their keyboardist, who looked like a member of the Bus Boys, would bend over impossibly far to the side when it was time for a solo. At least half the school behaved as though this were a real rock show, leaping out of chairs and high-clapping.
2 – A guy and girl duo with British accents. The guy stood behind a synth console and occasionally picked up an electric guitar after he got the loops going. The girl sang and skank-danced and reminded me of one of the female Jetsons. The only songs I remember them doing are "Tainted Love" and "I Love Rock and Roll."
3 – A one man band synthesizer/karaoke guy also with a British accent. He may well have been one half of the duo from above. He had a microphone headset and regularly stepped away from the console and gesticulated along with the lyrics he sang. The only song I remember is "I Don't Like Mondays." He spent quite some time on the song's back story, telling us about the girl who went on a Monday shooting spree, which now strikes me as strange. And I've never been able to hear that song since then without thinking of him in his headset, fluttering his fingers in the air to the Telex machine inside his head.
(Not posted, because the song's on my don't-mind-if-I-never-hear-again list.)