Song ID: Stars on 45 – "Medley" (1981)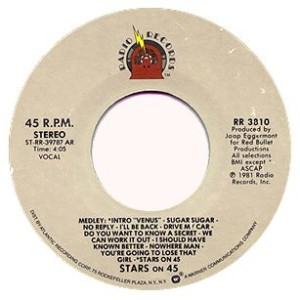 Thoughts of the early '80s and the Beatles have led me to this inescapable checkpoint: the Stars on 45 medley that absolutely owned the US airwaves (a Billboard #1 hit) during the summer of '81 and which most of us had completely forgotten by the end of the year. It was the slick product of a gang of Dutch session players doing dead-on impersonations against a disco/handclap backdrop. Other aspects of this single were clear as mud, especially the song choices: "Beat the Clock" (Sparks), a "Stars on 45" disco theme inspired by "Stayin' Alive" (Bee Gees), "Venus" (Shocking Blue), "Sugar Sugar" (The Archies), "No Reply" (Beatles, along with the next 8), "I'll Be Back," "Drive My Car," "Do You Want to Know a Secret," "We Can Work it Out," "I Should Have Known Better," "Nowhere Man," "You're Gonna Lose That Girl," and closing with a reprise of the "Stars on 45" disco theme.
It's a favorite game of mine, the attempt to ascertain what psychological aspects of society demand that certain songs become hits, but this one's not so tough – it was a well-timed beneficiary of US Beatle nostalgia just a handful of months after Lennon's murder in December '80 (it entered the Billboard charts early the following April). I think it's the only way a song with a blatant opening disco chant in a very acutely disco-hungover era could have gotten any significant airplay. (The actual disco sound, of course, never really went away, but flaunting the passé word "disco" certainly did.) But in retrospect, this song ultimately had less to do with Beatlemania and more to do with Medleymania, which kicked in in a big way because of it. More tomorrow.
In the American chart listings, by the way, every song in the Stars on 45 medley was listed as part of the title, making this the wordiest chart entry in Billboard history. But the short snippet of Sparks' "Beat the Clock" at the beginning was never included among the titles. I wonder what the story is there.