Album ID: Mary Weiss, Dangerous Game (2007)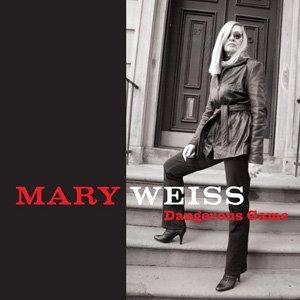 Norton Records serves a kind of religious purpose, a rock 'n' roll church that's always there proclaiming the Truth and while some of us may flop around irresponsibly and experiment with our listening habits and heed the words of false prophets and would-be hipsters and make bad musical decisions that sometimes make us feel guilty, we can always turn to Norton when it's time to get back on track.
Recently Norton's done us another benevolent service by getting a true rock 'n' roll goddess, the Shangri-Las' lead singer Mary Weiss, back in the studio. She's singing about boys again, even one who still lives with his mom ("I Just Missed You"), and her trademark heartbroken-but-still-tough voice sounds even tougher now. My favorite songs are three in a row toward the end: "Tell Me What You Want Me to Do," which features a wildcat growl by Mary at the end of the bridge; "Heaven Only Knows," an update of a Shangri-Las classic and which sounds truest to her sixties roots with its backup vocals and doubled up lead; and the airtight and irresistible "I Don't Care."
She's teamed up on this album with Memphis rockers the Reigning Sound, whose Greg Cartwright wrote most of the songs. I'm not sure if Mary and Greg are an ideal matchup, but if they're talking about a second album, may I request the following: 1) More recitations so we can hear more of Mary's speaking voice, which all Shangri-La fans crave; 2) more sis-boom-bah in the wall-of-sound department; 3) more melodrama in the lyric department; and 4) less Americana-syndrome B-3 organ, which sounds too conventionally gospel for our favorite bad girl.
Mary Weiss – "Tell Me What You Want Me to Do"
Audio clip: Adobe Flash Player (version 9 or above) is required to play this audio clip. Download the latest version here. You also need to have JavaScript enabled in your browser.