Movies By Memory, Pt. 5: Party Mix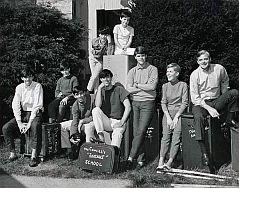 As I restrain myself from dropping big bills on old Tiger Beat mags featuring the Cowsills, you're stuck with more entries from my "movies by memory" guide, a work in progress.
How to play "Movies By Memory": Take the 3 or 4 things you remember about any given movie (no Google allowed) and incorporate these into a one-sentence plot summary.
Virgin Suicides, The (2003): Todd Rundgren stars as a boy who wears a wig to seduce three schoolgirls with tragic results.
Paper Moon (1974): Young Tatum O'Neal teaches her father, a hot dog vendor, valuable life lessons using stories from the Bible.
Wide Sargasso Sea (1993): Richard Gere stars as Heathcliff, a lusty islander whose life is altered when he inherits an estate in Pemberley.
Trading Places (1983): Jamie Lee Curtis and her attorney, Eddie Murphy, bring outsider transvestite Dan Ackroyd back into normal society.
Tabu: A Story of the South Seas (1931): Two aboriginal surfers travel the Australian coast looking for perfect waves and topless sunbathers.
Spies Like Us (1985): Dan Ackroyd and Eddie Murphy, reviving their roles in "Ghostbusters," investigate Paul McCartney's mistaken identity.
Reversal of Fortune (1990): Woody Allen, a lawyer, gets ten misfit law students to help him annul Kirk Douglas's marriage to Glen Close.
Peter's Friends (1992): Sparks fly when five British thespians reunite to work on a stage production based on the music of Tears For Fears.
Advocate, The (1994): John Travolta stars as a hooded gigolo among the castles of medieval France.
Nobody's Fool (1994): Paul Newman teaches Al Franken how to keep his two boys from fighting.
My Architect: A Son's Journey (2003): A boy roller skates to Creedence Clearwater Revival in buildings designed by his absent-minded father.
Jazz Singer, The (1980): Neil Diamond teaches Barbra Streisand how to sing Al Jolson songs in Yiddish.
54 (1998): An elderly woman disco dances to death in the arms of an impressionable young boy.
posted by Kim Simpson