Ken Barnes, The Beach Boys: A Biography in Words and Pictures (1976)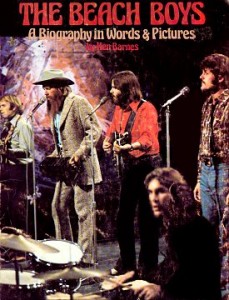 One thing we can appreciate about USA Today is its music editor, Ken Barnes. The man's a veteran, and he's one of those rare breeds of entertainment journalists who can play that familiar role of the garrulous, opinionated remote-twiddler but also double up as a trustworthy and informed industry analyst. Barnes knows a thing or two about music biz nuts and bolts – not only did he work the record reviewing trenches in Rolling Stone and similar mags throughout the seventies, but he served a good chunk of time as editor for industry trade publication Radio and Records before settling in at USA Today in the late nineties. So the American Idol blog he currently maintains over there with such devotion, folks, is probably the single most worthwhile coverage of the show you'll likely find anywhere. And the craziest thing about it is that he really does seem to be enjoying himself.
Which leads us to his The Beach Boys: A Biography in Words and Pictures (1976), which pre-dates David Leaf's The Beach Boys and the California Myth by a couple of years and stands as perhaps the first serious – but never at the expense of fun – overview in book form of the Beach Boys' music. It's certainly got the aura of a quickie assignment. It was one in a series of six artist bios published by Sire-Chappell, none of them over sixty pages, and each of them jam-packed with photos and typos alike. But you never get a single hint from Barnes that he's going through the motions, because he's not. All too aware that recent magazine articles by Tom Nolan (Rolling Stone) and Nick Kent (NME) make any attempts at biographical revelations momentarily pointless (he even refers readers to these articles on the copyright page), he attends to the Beach Boys story using the classic, most basic rock-crit method: the record player. Approaching his subject the way a five-year old approaches monkey bars – rung by rung and with a focus on fun – Barnes evaluates the group's entire catalog song by song, and even if the book's format limitations don't allow him to do much more than thoughtful drive-bys, it's the very attempt at completeness and the always-engaging writing that makes this curio worth sniffing out. Barnes' musical worldview, for that matter, in which reverent treatments of the Mystics, Tommy Facenda's "High School USA," and the "dense, dreamy mix" of Pet Sounds all share neighboring mountain peaks, is one we might all consider subscribing to.
(Barnes' frustrations with portions of the BB's 1971-73 period make for some funny moments. My favorite paragraph: "Sadly, the chief unifying factor [of the Surf's Up LP] was a pervasive lyrical banality, exemplified by Al and Mike's opening track, "Don't Go Near the Water." Here the boys jumped on the trendy ecological bandwagon (no doubt with complete sincerity, etc. etc.), suggesting we all help the water out of a tight spot ('toothpaste and soap will make our oceans a bubble bath/So let's avoid an ecological aftermath,' lines worthy of an Eric Burdon) and proving that writing [sic] on top of the waves was a much sounder idea than examining their constituent elements.")