Movies by memory in one sentence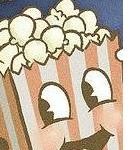 I keep a list of all the movies I've seen and I realize that one of the main reasons I do this may be to translate such a blatantly recreational activity into something that appears constructive. But when I look at my list I'm always surprised over how many movies I've seen but don't remember anything about save for a few stray words, songs, and images.
I occasionally undertake this little exercise that excavates whatever I can remember about a movie in one sentence. Below is a sampling from the W section. Note: Movies I really like (Wattstax), movies I especially dislike (Garden State), and movies I've seen more than once (Waiting for Guffman) don't seem to work well for this exercise.
Waking Life (2001): A young man wakes up in a cartoon nightmare world in which all the inhabitants worship the sounds of their own voices.
Waking Ned Devine (1998): An old pig farmer cycles nude to the sound of bagpipes, all for some fried chicken.
Walkabout (1973): Rod Stewart narrates this story of a broken, nudist desert family in the heart of Australia.
Wanderers, The (1979): A little girl breaks greasers' fingers at a bowling alley, then runs off with Bob Dylan.
Warriors, The (1979): Street gangs with baseball bats do choreographed battle to the music of Joe Walsh and the catcalls of Sean Penn.
Watcher in the Woods (1980): German Shepherds and talking mirrors spread nasty rumors about Hayley Mills in the middle of a forest.
Watership Down (1978): Several hundred cartoon rabbits find ways to tell each other apart against the ethereal backdrop of Art Garfunkel.
Way We Were, The (1973): A woman's efforts to sing ballads in the voice of Bugs Bunny can't keep the man she loves from leaving.
Weird Science (1985): Two high school boys use electricity, beakers, and underpants to disrupt an Oingo Boingo concert.
Welcome to the Dollhouse (1996): After getting kicked out of her brother's organ/sax combo, a homely young girl forms a city choir.
What Lies Beneath (2000): Harrison Ford's laptop flashes gibberish messages, prompting Michelle Pfeiffer to dump both of them into a lake.
posted by Kim Simpson