Wacky Packs for your living room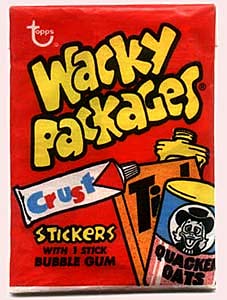 That previous Beatles post comes from my having just discovered a stack of vintage 1964 Beatles cards that a friend's mom had given me back in the '70s, which got me thinking about Wacky Packs. I just got my hands on last year's Wacky Packages book, which presents all those crude and hilarious bubblegum stickers that parodied store brands (Chips Ahoy is depicted as "Chimps Ahoy – real insects in every bite," for example) in full coffee-table splendor. The first series of stickers came out in '67 and have been in circulation off and on until today.
What I especially love about the book, though, is that it focuses only on the mid-70s series that I remember best. Along with Mad magazine, these served as my introduction to the irreverent, grossout world of older preteens, and the image of these stickers all plastered and curling up across my friends' big brothers' windows, bedroom doors, and banana skateboards is also plastered across my own memory. Why did these come out as stickers, I wonder? This seemed to ensure their ephemerality – peeling up and crumbling away like dead leaves – almost as much as it did their visibility. Will need to ask fellow KOOP DJ Len Brown, who was creative director for Topps at the time, all about this. (Update: Len says Topps wanted them to be stuck indefinitely all over the world. Affixed ephemerality.)
Well, the book's been a big hit with my own two boys – they especially appreciated the "Slaytex gloves" one, which makes me wonder what kind of dad I am anyway. I can't think of my own father introducing me to anything like this when I was my own boys' age. And no, I wasn't necessarily showing this stuff to them out of any self-conscious effort to be a "buddy parent"… Like I've said on this blog before, it must be a generational thing.
You can have yourself a big time at the Wacky Packs website, which demonstrates an obsessive thoroughness that every collectable card/sticker website would do well to mimic.