Monday, March 17th, 2014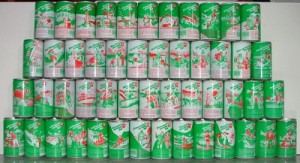 I collected these cans in the summer of '79 and was able to make the stacked up panorama shown in this picture. My decision to toss them out at the end of that summer was perhaps a formative anti-hoarding lesson for someone with an unmistakable collector's impulse. Each can offers up a single image suggesting a quintessential recreational activity for each state (photos – except for Minnesota – courtesy of usasoda.com):
Alabama (biking in historic Mobile)
Alaska (scaling the Alaska range)
Arizona (backpacking in the Grand Canyon)
Arkansas (picknicking in Hot Springs)
California (surfing the California coast)
Colorado (skiing in the Rockies)
Connecticut (hiking the Appalachian Trail)
Delaware (touring)
Florida (boating in the Everglades)
Georgia (fishing Lake Lanier)
Hawaii (snorkeling)
Idaho (rafting the Salmon River)
Illinois (cycling in New Salem State Park)
Indiana (playing basketball)
Iowa (ballooning)
Kansas (camping along the Santa Fe Trail)
Kentucky (horse racing)
Louisiana (boating in Lake Pontchartrain)
Maine (canoeing in the Allagash River)
Maryland (sailing in Chesapeake Bay)
Massachusetts (running the Boston Marathon)
Michigan (fishing in Lake Michigan)
Minnesota (dogsledding in the Superior National Forest)
Mississippi (sailing along the Gulf Coast)
Missouri (canoeing in the Ozark streams)
Montana (backbacking in Glacier National Park)
Nebraska (saddlebronc riding)
Nevada (wind sailing in Death Valley)
New Hampshire (climbing White Mountain)
New Jersey (canoeing in the Pine Barrens)
New Mexico (rounding up cattle)
New York (sight-seeing in Central Park)
North Carolina (golfing the Tar Heel Fairways)
North Dakota (cross country skiing)
Ohio (backpacking along the Buckeye Trail)
Oklahoma (horse riding near the Glass Mountains)
Oregon (climbing Mount Hood)
Pennsylvania (touring Independence Square)
Rhode Island (sailing in Newport)
South Carolina (playing tennis at Hilton Head)
South Dakota (hiking Mount Rushmore)
Tennessee (hiking the Great Smokies)
Texas (fishing the Toledo Bend Reservoir)
Utah (camping in national parks)
Vermont (iceboating in Lake Champlain)
Virginia (camping in the Shenandoah Valley)
Washington (kayaking in the Skagit River)
West Virginia (climbing the Seneca Rocks)
Wisconsin (fishing in Lake Winnebago)
Wyoming (hiking the Grand Tetons)
Anyone interested in constructing an alternate list?