Tuesday, January 22nd, 2008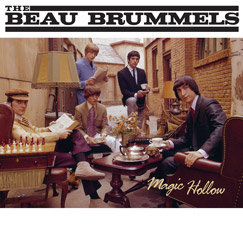 A prayer for our times. The Beau Brummels offered up this track in the mid-sixties, then promptly tossed it into the discard bin. The group, incidentally, has one of the most generously endowed discard bins in rock. It finally did show up for the first time on Rhino's 2005 limited edition Magic Hollow box set, which is now out of print but mandatory, along with Sundazed's San Fran Sessions (also out of print) if you have any interest in getting a truthful overview of the Brummels. See here for my dream "Best of the BBs" compilation.
R.I.P.: Beau Brummels drummer John Peterson passed away November 11, 2007.
The Beau Brummels – "God Help the Teenagers Tonight" (1965)
Audio clip: Adobe Flash Player (version 9 or above) is required to play this audio clip. Download the latest version here. You also need to have JavaScript enabled in your browser.