Saturday, July 20th, 2013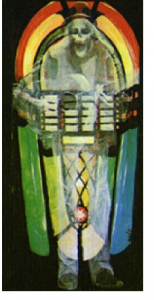 I've been watching reruns of Rod Serling's Night Gallery on MeTV. This was an early '70s series that ran for three seasons and had a format similar to the Twilight Zone, with Serling as the host introducing creepy tales with twist endings. Each episode featured a corresponding painting in keeping with the "gallery" theme and fright factors that were more heavy-handed than in the Twilight Zone.
I finally got to see an episode called "The Tune in Dan's Cafe" (painting on left), which I had known spawned the Jerry Wallace 1972 country #1 hit "If You Leave Me Tonight I'll Cry."  The episode told the story of a jukebox that played the same record over and over again due to its being haunted by the ghost of a jilted lover. After the episode ran in January of '72, apparently, radio stations received enough requests for the nonexistent record to prompt an official release by studio vocalist Wallace, who'd had moderate pop chart success until the mid-sixties, when he'd shifted gears to country.
I've never much liked this Wallace record, being the kind of overwrought schmaltz country radio had more than its share of in the early '70s.  When I saw the episode, though, I realized that the TV version is better, having a harder country sound.  Would listener demand for the song have been so strong if the TV version had been as goopy as the official release? Well, probably. Try as I might to decipher why songs become popular, sometimes melodies just get stuck in people's heads.
Read more at Early '70s Radio
Jerry Wallace – "If You Leave Me Tonight I'll Cry" (Night Gallery TV excerpt) (1972)
Audio clip: Adobe Flash Player (version 9 or above) is required to play this audio clip. Download the latest version here. You also need to have JavaScript enabled in your browser.
Jerry Wallace – "If You Leave Me Tonight I'll Cry" (hit record excerpt) (1972)
Audio clip: Adobe Flash Player (version 9 or above) is required to play this audio clip. Download the latest version here. You also need to have JavaScript enabled in your browser.